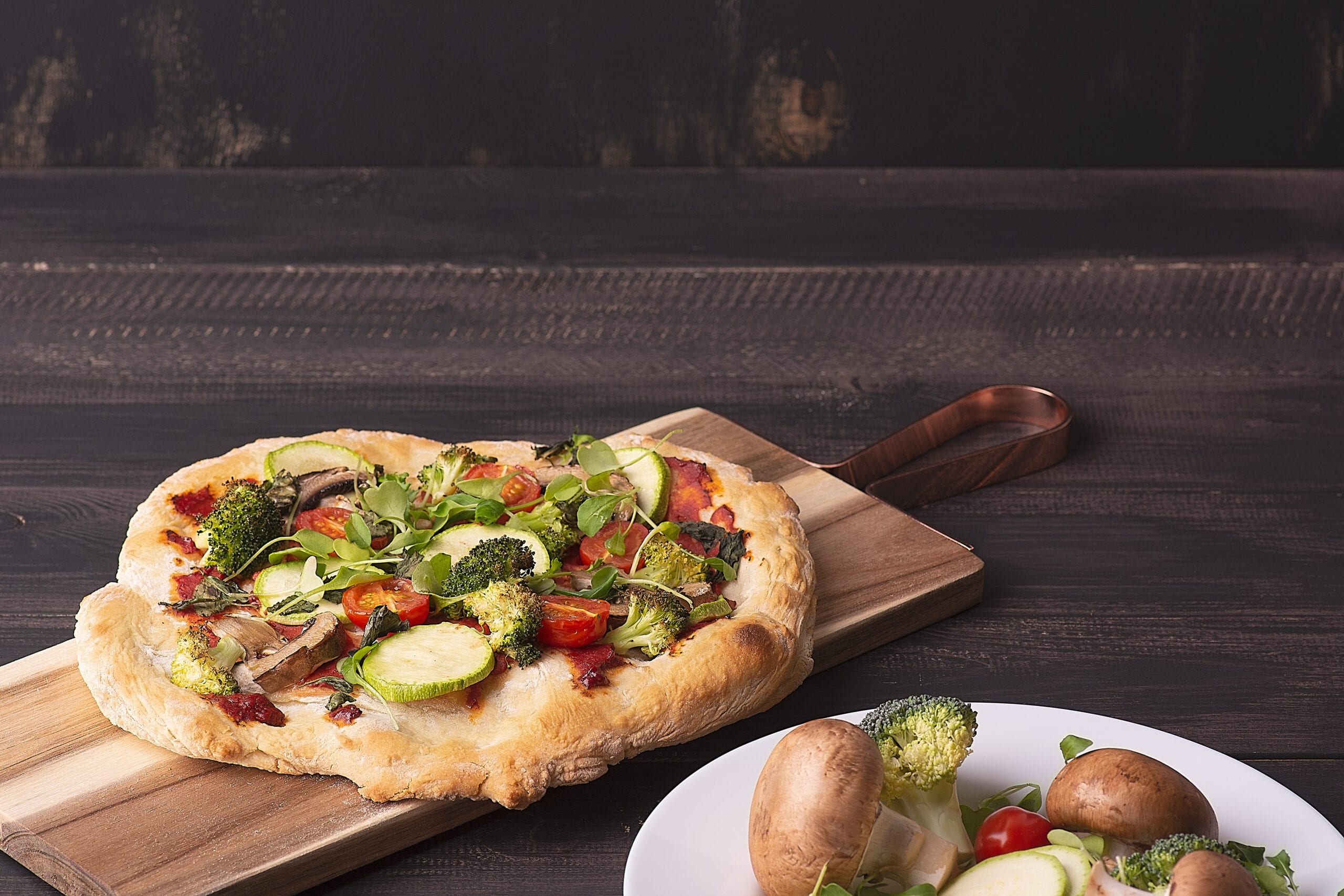 ---
Prep:
25 mins
Total:
45 mins
Servings:
4
---
These easy weeknight pizzas are full of surprises. Grill produce like mushrooms, zucchini, red onion, and kale—and pile them onto rounds of store-bought flatbread. Sprinkle on blue cheese and mozzarella to bring a mix of funk and gooeyness. Then, since we have already broken tradition, skip the marinara and drizzle your pizzas with a simple mustard vinaigrette instead. It offsets the rich cheeses and unites the vegetables into bites so satisfying; no one will notice you are having salad for dinner.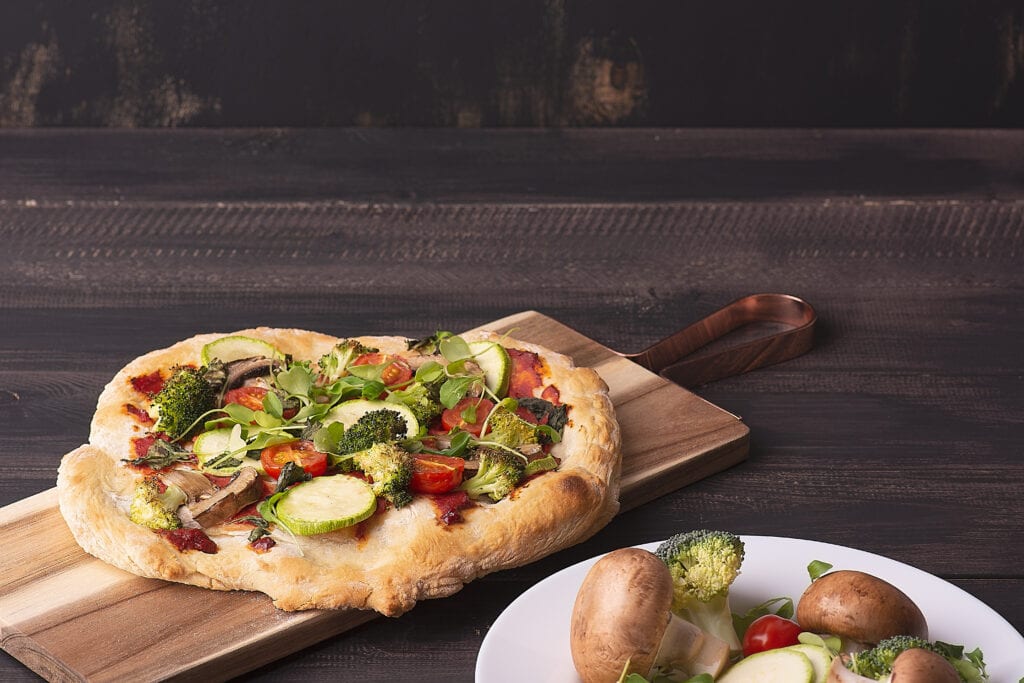 Ingredients
2 tablespoons red-wine vinegar
1 teaspoon Dijon mustard
1 1/2 teaspoons finely chopped fresh oregano
Kosher salt and freshly ground pepper
1/4 cup extra-virgin olive oil, plus more for brushing
12 ounces shiitake- or portobello-mushroom caps, or a combination
2 medium zucchinis, sliced lengthwise into 1/2-inch-thick planks
1 bunch lacinato kale, thick stems, and center ribs removed
1 medium red onion, peeled and cut into 1/2-inch-thick rounds
4 store-bought flatbreads, such as Stonefire naan
12 ounces low-moisture mozzarella, such as Polly-O, shredded
3 ounces blue cheese, crumbled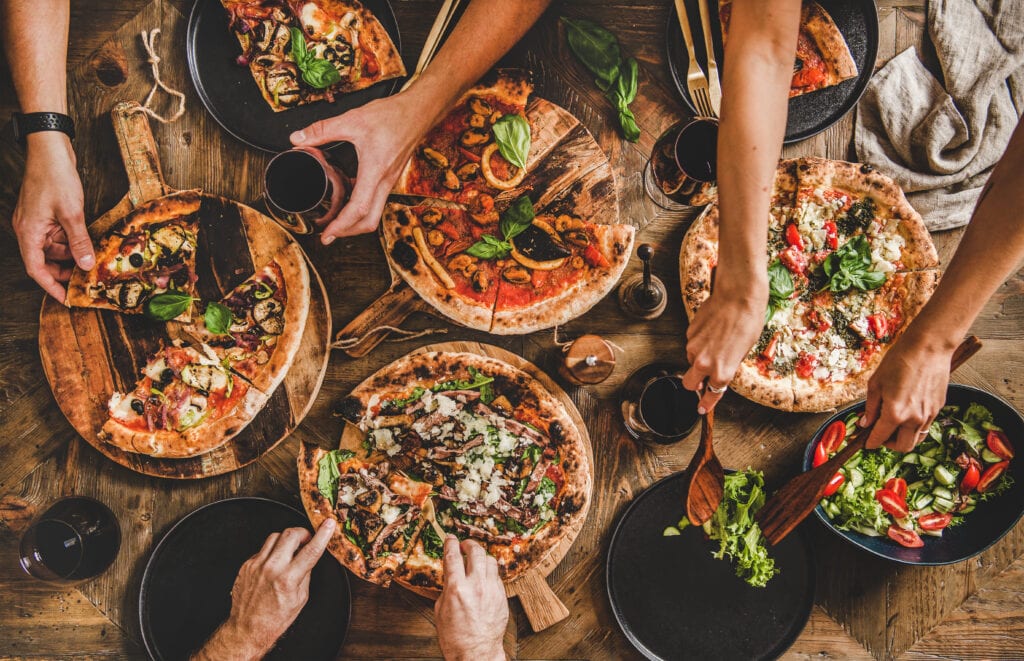 Directions
Prepare grill for direct- and indirect-heat cooking. In a bowl, whisk together vinegar, mustard, and oregano, season with salt and pepper. Slowly whisk in oil; set aside.
Brush mushrooms, zucchini, kale, and onion with more oil; season with salt. Grill mushrooms over direct heat for 6 to 10 minutes, depending on size. Flip mushrooms: add zucchini and onion to grill and cook 5 minutes more. Flip zucchini and onion; add kale to grill.
Continue cooking, flipping kale once, until everything is charred in places and cooked through, 3 to 4 minutes more. Transfer to a platter or board. Top flatbreads evenly with about two-thirds of mozzarella. Divide mushrooms and vegetables evenly among flatbreads. Sprinkle with remaining mozzarella and blue cheese.
Place pizzas over indirect heat and grill, covered, maintaining a temperature of about 400°F, just until bread is charred in places and mozzarella melts, 7 to 9 minutes (if bread is not crisping along bottom and edges, transfer pizzas to direct heat in last minute of cooking). Drizzle with vinaigrette and serve warm.
Related Articles
Arugula Pizza With White Beans
Are Fruits and Vegetables Less Nutritious Now?